Label: Warwick
Cat #: 2002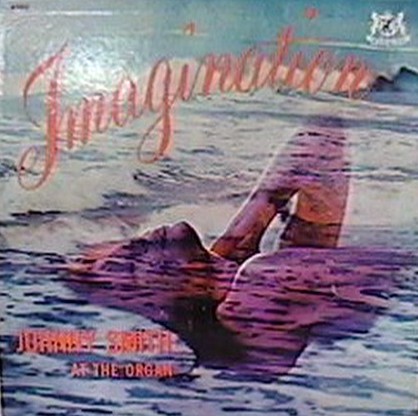 Track Listing
1. Imagination
2. Shalimar (Smith)
3. On the Street Where You Live
4. Flip Top (Smith)
5. Deep Purple
6. Lamberts Lodge (Smith)
7. Over the Rainbow
8. Ecstasy (Smith)
Performers
Johnny "Hammond" Smith – Organ
George Tucker – Bass
Leo Stevens – Drums
Thornel Schwartz – Guitar
Note:
This is Johnny's "lost" album. Not mentioned in any other discography, this is Johnny's first true album. Recorded on the Warwick label, it is a peek at Johnny's earliest stage. This album is filled with energy that probably existed in his performances. The original Lamberts Lodge appeared later appeared on the Mr. Wonderful CD. This early performance of it is faster and filled with a little more bounce than the latter. It also lacks the intro on Mr. Wonderful version.
Liner Notes from Back Cover:
This Johnny Smith plays Hammond… and man, he cooks.
From BESSIE to STUFF to JIMMY to JOHNNY (guitar) to this JOHNNY, the ordinarily ordinary name of SMITH crops up in jazzdom's roster with almost incredible frequency. To the best of our knowledge none is related except by the broad but very definite ties of art.
This JOHNNY SMITH plays organ – the Hammond usually and with remarkable taste and finesse. This instrument, never originally intended for the intricate demands of jazz has, nonetheless, lent iself beautifully to this idiom. Probably the most noteworthy early recorded instance of its use goes back to the FATS WALLER "Jitterbug Waltz" that was so very popular in its day. In more recent years, under the artistic fingerings and footings of the Doggets, Davises, Buckners, et al… and forced by the circumstance of rising costs and the club owners' insistence on lowered entertainment budgets … the Hammond has become an integral and interesting and indeed exciting part of jazz. It is a difficult instrument to play… a frightening instrument to master. Small wonder then that there are so many alleged jazz organists whose music is merely muddlings. But there is, thank the Muse, a highly skilled and richly imaginative coterie of jazzmen who create pure, cookin' jazz with the instrument.
Our JOHNNY SMITH is one of these men.
He hails from the mid-west where in the small club and cocktail lounge circuit of Ohio and Michigan he has been able to both please the listeners and develop a highly distinctive style that continues to win followers for him. CHRIS COLUMBO who drummed with BILL DAVIS' organ led trio immediately sought out JOHNNY SMITH when he cut away from Davis to form his own group. Johnny was a perfect fit for the new-formed group and soon was being rated as an important find for jazdom's organ ranks.
JOHNNY'S first recording effort was a single with two sides of "IMAGINATION." When the disc jockeys and critics sampled this one, they immediately demanded the recall of the single and the issuance of a long playing work. This is it and it includes the delightfully sensitive and sensuous interpretation of the above mentioned "IMAGINATION." Three other standard works are beautifully interpreted here: "THE STREET WHERE YOU LIVE"; "DEEP PURPLE"; and "OVER THE RAINBOW." Remaining are the originals, "SHALIMAR," "FLIP TOP," "LAMBERTS LODGE," and "ECSTASY."
JOHNNY'S inventive ad libs, his sense of good taste, his intuitive feel for jazz, and his insistence upon mastery of his instrument all combine with his true-artist's talent of soul-baring to make this potpourri of standards and originals an extremely desirable adjunct to the too-few really good recordings of jazz organ.
This JOHNNY SMITH will undoubtedly leave a strong impression on your senses. In this ever-changing panorama of modern music where there is always room and need for the new and the virile, this JOHNNY SMITH is a welcome name on the roster
Notes by JACK WALKER
Billboard Magazine, Nov 16, 1959
Johnny Smith, Warwick W 2003 – Johnny Smith makes his album debut with a group of familiar standards ranging from "Over the Rainbow" to "On the Street Where You Live." Smith, now with the Chris Columbo Trio, is a good organist, with taste and a distinctive style. On this album he gets a chance to show off both his organ techniques and his jazz stylings.
Back Cover