Label: Prestige
Cat # 7494 and 24224
Engineer: Rudy Van Gelder.
Recorded at the Van Gelder Studio, Englewood Cliffs, New Jersey on March 3, 1967. Reissued along with "Nasty!" as "The Soulful Blues."
Listed as a new release in the November 4, 1967 issue of Billboard, page 49. It notes that both mono and stereo versions were available.
Note: Johnny's discographies usually include an album called "Ebb Tide" which is actually this album, including the same track listing and catalog number. I have never seen an actually copy or photo of an album called "Ebb Tide" yet, only a 45 rpm.
Original Cover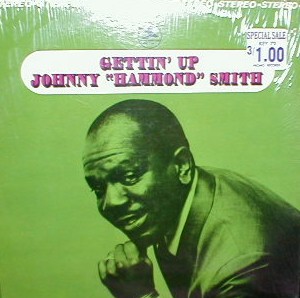 Track Listing
1. The Sin-In (Smith)
2. Stand By Me (King, Leiber, Stoller)
3. Knock on Wood (Cropper, Floyd)
4. The Soulful Blues (Smith)
5. Ebb Tide (Maxwell, Robbins)
6. Summertime (Gershwin, Gershwin, Heyward)
7. Gettin' Up (Smith)
8. "In" Crowd (Page)
Performers
Johnny "Hammond" Smith – Organ
Houston Person – Tenor Saxophone
Virgil Jones – Trumpet
Thornel Schwartz – Guitar
Jimmy Lewis – Electric Bass
John Harris – Drums