Label: Prestige
Cat #: 7408
Recorded at Rudy Van Gelder Studio, Englewood Cliffs, NJ, May 7, 1965
Original Cover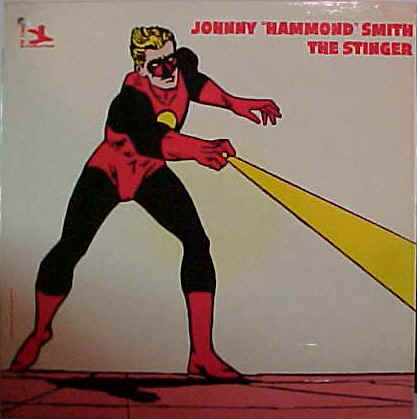 Track Listing
1. The Stinger (Smith)
2. There Is No Greater Love (Jones, Symes)
3. Brother John (Smith)
4. Cleopatra and the African Knight (Smith)
5. You Don't Know What Love Is (DePaul, Raye)
6. Benny's Diggin' (Smith)
Credits
Johnny "Hammond" Smith – Organ
Earl Edwards – Tenor Sax
John Harris – Drums
Houston Person – Tenor Sax
Floyd Smith – Guitar
Billboard Review (listed under "Jazz Spotlight), October 16, 1965, page 50
One of the leading exponents of jazz organ, Johnny teams up with Houston Person and Earl Edwards (tenor sax), Floyd Smith (guitar) and John Harris (drums) and spurs them into a pulsing round of blues, ballads, and boffos. Even on slow tunes, Smith's pace seems "up" and urgent. Excellent "pop jazz" music.
Other Billboard Mentions
In this same issue, on page 59, this album is listed under "New Action R&B LP's" which means they were registering "solid sales in certain markets and appearing to be a week away from meriting a listing on the national Hot R&B chart…"
The album appears in the same "New Action R&B LP's" section in the October 23, 1965 issue, on page 45.
It is listed in the new releases of the October 9, 1965 issue of Billboard, page 48.